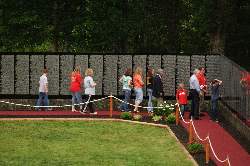 Yankee Homecoming Board of Directors is honored to be able to bring The Moving Wall to our area September 2nd – 6th.   The Moving Wall is a half sized replica of the Washington DC Vietnam Veterans Memorial measuring 252.83 feet long and composed of 74 separate frames.  As of January 1, 2012 there are 58,272 names listed on the memorial.  Approximately 1300 of these are still unaccounted for prisoners of war (POWs) and missing in action (MIA)
If you are interested in helping to sponsor this memorial or would like to volunteer please contact Dennis Palazzo at info@yankeehomecoming.com
Haven't purchased your Yankee Homecoming Flag yet?  Don't worry there is still time to get yours HERE
Yankee Homecoming Reimagined
July 30th – August 8th 2021

Greetings,
What a wonderful Yankee Homecoming celebration!  I hope you all had as much fun as I did. It felt good to be back! There were many smiling faces as I walked around Market Square and attended events around the city. The brief rain on Thursday didn't dampen spirits at all.
Our efforts to "reimagine" YHC were rewarded.  We brought back timeless favorites and introduced new events; all were well received and well attended. We formed new partnerships we are excited to continue and welcomed participation of returning sponsors.
I would also like to extend heartfelt thanks to Mayor Holiday for her support and the cooperation of the city's departments.  They worked tirelessly to make sure YHC was safe and well laid out within the city limits.
This year we had precious little time to plan.  The Board did their part to plan, fund raise and communicate with city departments, but Yankee Homecoming does not happen without our volunteers.  Event Chairs gave up free time to create, plan, organize and execute their events and dedicated volunteers arrived early and stayed up late to set up, break down and help run events. To all of you, Thank You!
Newburyport is a beautiful and very special city. Set on the Merrimack River, it has a long and rich history, but it is the people of this city and those who love it that make it special.  Throughout the years residents have stepped up, each in their own way, to contribute to all that make this city a wonderful, supportive community. (It attracts people from everywhere that want to call Newburyport home.)  All of us at Yankee Homecoming thank you for welcoming the thousands of visitors that attend our ten-day celebration.  Our city shone brightly.
It has been my honor to host the 65th Annual Yankee Homecoming.  
With a grateful heart,
Jill Ramsdell
General Chair 2021 YHC