PARADE
Thank you to everyone that attended our 2019 Yankee Homecoming Festival.  We hope you enjoyed our many events.  Please check back early next year to see our updates for next years event.  In the mean time below is information on this past festival.
The parade is the last official event of Yankee Homecoming.  It begins at the intersection of Moseley Avenue and Ferry Road and follows historic High Street in Newburyport, ending at Federal Street.  Fire engines from the area will lead off the parade followed by the YHC General Chairman, Volunteers of the Year, bands, floats, performances and more!  This year Pennies for Poverty will be collecting non-perishable foods for local pantries during the parade in decorated shopping carts, and don't forget the collection for the Jimmy Fund.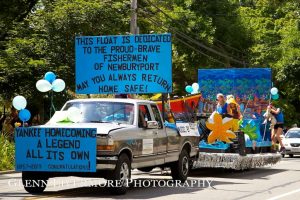 FLOATS WANTED!
This is a great way to promote your business/organization. Remember there is no fee for floats that represent the Yankee Homecoming theme (Reflections Of Our Past) and/or the organization is a not for profit. Groups are welcome to enter floats that represent a company we just ask that they adhere to the Advertisers fee.
If you are interested in participating in our 2019 parade, please complete the form below and someone will be in touch with you shortly.   Please remember this form does not consitute a contract with YHC please wait for someone to reach out to you with more information.