PARADE
Sunday, August 4th
The parade is the last official event of Yankee Homecoming.  It begins at the intersection of Moseley Avenue and Ferry Road and follows a 2 mile route down historic High Street in Newburyport, ending near the Newbury line.  The parade features traditional attractions such as emergency vehicles, antique cars, marching bands and entertainers, but also adds a distinctive local flavor with floats sponsored/created by local businesses and organizations.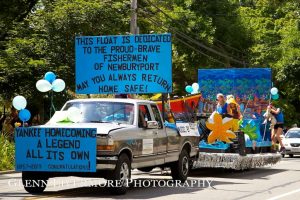 FLOATS WANTED!
This is a great way to promote your business/organization. Remember there is no fee for floats that represent the Yankee Homecoming theme (Reflections Of Our Past) and/or the organization is a not for profit. Groups are welcome to enter floats that represent a company we just ask that they adhere to the Advertisers fee.
If you are interested in participating in our 2019 parade, please complete the form below and someone will be in touch with you shortly.   Please remember this form does not consitute a contract with YHC please wait for someone to reach out to you with more information.