GENERATIONS OF GIVING
SPONSORED BY:

It has been quite a trying year for the greater Newburyport Community during the Covid pandemic.  Many in our community have faced financial hardship and social isolation.  It is against this backdrop that our citizens have stepped up to address these issues and find solutions.  They have done this by volunteering their time and efforts with local community organizations and non-profit groups.
The Covid crisis has brought forth the best of the human spirit to truly make a difference in the quality of life in greater Newburyport.  The 2021 Yankee Homecoming (YHC), theme is "Reimagined".  This theme reflects the effort individuals have made in our towns, this past year.
YHC is proud to recognize, once again, those who have made a difference in the lives of the residents of Newburyport and surrounding towns, by unselfishly giving of themselves, donating their time, efforts, and energy.  This year we received a record fifteen nominations.  All nominees are," true winners", as each nominee unselfishly gives their time each day to enrich our lives and make our community a better place to live.
Please join us on Wednesday, August 4th, at 4:00 pm at the Newburyport Senior Center at 331 High Street to honor the four 2021 honorees, Nancy Burke, George Burtch, Spencer Gray and Sophia Novello.
Nancy Burke
Nancy is very active in providing food security for the residents of Greater Newburyport.  Nancy works every Friday at the First Parish Church Food Pantry in Newbury, arriving early at 7:00 am to unload, set-up and distribute food to over two hundred people in need each week.  She often does not leave until all tasks are complete, which is often in the early evening hours.
In addition, Nancy serves breakfast sandwiches at the Central Congregation Church, "Grab and Go" program every Saturday morning.  She is also a founding member of the Sunday Lunch Program at the Old South Presbyterian Church, making sandwiches for the elderly and the homeless. In addition to preparing the meals, Nancy is also delivers them to the homebound, while checking on their health and safety.
Nancy provides transportation to weekly medical appointments for the elderly and physically disabled. In addition to all the above volunteer activities she also finds time to work on several Habitat for Humanity projects each year.
George Burtch
George is a transportation volunteer at Anna Jaques Hospital, with over two years of service and over two hundred volunteer hours.  During Covid the Hospital had to put a hiatus on all volunteer activity.  As protocols changed, George was one of the first volunteers to return, volunteer for many extra shifts, to help the Hospital through this difficult period.  Cheryl Straub the Director of Volunteer activities states in her nomination, "George is an exemplary volunteer who really cares about others.  Our staff really enjoys George, and he gets along great with everyone.  He goes above and beyond when he is here at the Hospital".
Spencer Gray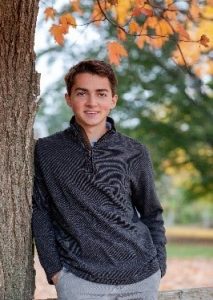 Spencer is a regular volunteer at the food ministries at Central Congregational Church, where he cooks Saturday morning breakfast for over 70 guests.  He has built quite a fan base for his French toast. Spencer also serves an evening meal, sponsored by Pettengill House, at the Salisbury Methodist Church.  He is a volunteer there for the past ten years.
As a member of Boy Scout Troop 251 of Newburyport, Spencer works on the troops Thanksgiving and Christmas food drives each year.  He is a regular worker in the Troops efforts supporting the Little River Trail system.  From the project to make the Hale St entrance handicapped accessible, to the wetland elevated trail expansion, both projects for other Eagle Scouts, Spencer has been there, doing whatever the projects needed.
Spencer was awarded the rank of Eagle Scout on July 15th, 2021.  For his Eagle Scout project Spencer enhanced the usability of the trail system by installing almost 60 trail signs/markers.  His planning, creativeness, and execution have made the trail system safer, easier to use, and more enjoyable.  This project entailed installing posts at major intersections of the various trails.  He designed the actual signs and coordinated their manufacture through a local printing vendor and installed the signs on the posts.
Sophia Novello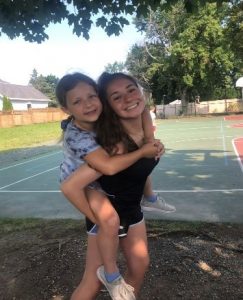 Sophia has been a member of the Newburyport Youth Services, (NYS). since elementary school.  In Middle School she moved into a leadership position and has continued into her high school years.  She is pictured here with one of her summer campers.  Sophia is very active in social justice issues and has volunteered her time and fundraising efforts to combat racism and injustice.
Sophia volunteers at Our Neighbors Table and staffs the Recreation Departments Snack Shack, which raises money to support the NYS programs