FAMILY DAY – NOTE OUR NEW LOCATION!
Family Day is back at a new location this year!

Join us Saturday August 6th
Nock Middle School – 70 Low Street NBPT
10am – 2pm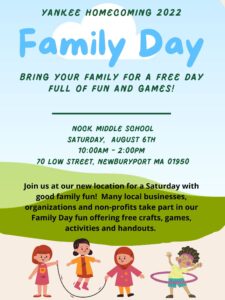 Join us at our new location at the Nock Middle School as we start off our Super Saturday with good family fun!  Many local businesses, organizations and non-profits take part in our Family Day fun offering free crafts, games, activities and handouts.  Sit down for some lunch and listen to the band playing on the main stage or watch one of the performances taking part throughout the park.
A voluntary toll booth is positioned at the entrance of Family Day. This is completely voluntary but does go a long way to keeping this event free.
We are accepting applications for Family Day.  Please remember the booth is free as long as you provide a free craft, game, activity or handout for the kids.
To apply please read our FAQ's and Guidelines HERE then complete the form below HERE. 
See this years activities below
Brigid's House of Hope (Brigid's Boutique)
providing expressive arts therapy projects, safety tip handouts
Candice J Photography
activity to be announced
Essex County Sheriff
K-9 unit demonstration
Family Connections of Salisbury, Newbury, Rowley and Newburyport
providing crafts
Greater Newburyport Ovarian Cancer
providing nail painting(teal color)
Kin Fitness
Fitness activities for kids
Lola Lovs
providing mandalas and other mindfulness activities.
Macaroni Kid North Shore MA
providing different crafts and activities
Maddieshack Designs
providing spinning prize wheel
Neeco
providing reusable brown paper bags that the kids can decorate using crayons and stickers.
Newburyport Youth Football
providing football toss and tackling dummy
Pixie Dusting Plans
providing bubbles, stickers, wands, ride height checks
PJC Ecological
providing pollinator coloring pages and spin for prize
The Mom Comm Fitness Studio & Community
providing a kids mini obstacle course, carnival games, stickers and more
Relief Parenting
Family Yoga and scavenger hunt
The Studio NBPT LLC
providing an art project
Food provided by
Todd Farm Grill
Serving up burgers, italian sausages, hot dogs, chicken fingers, french frys and cold drinks