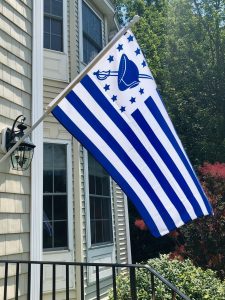 Thank you to everyone that purchased a YHC Flag!  The response was more then we could have asked for, and because these have gone so quickly we placed another order for more flags to come in.  Currently we have about another 10-15 left in stock once these are gone the new order will be here July 23rd so still plenty of time to get yours in time for this years celebration!
For years you have been asking how to purchase a Yankee Homecoming Flag, and this year we have delivered.  YHC has purchased flags to be sold to the first 100 customers.  Each flag measures 3 x 5 feet and will be shipped within 48 hours of purchase.
Jennifer Duggan, this years General Chair, had the idea to line High Street with YHC flags for the parade.  All proceeds of flags sold to High Street residents will go directly into the parade, all other proceeds from those not living on High Street will go towards our other YHC Events.
The cost is only $50 (plus sales tax and shipping).  Showcase your Yankee Homecoming pride by purchasing one of our flags today!
Use the Paypal Buy Now button below to complete your purchase.