WATERFRONT CONCERT SERIES
Check back soon for information on this years concerts series.  Below is information on last years event
This event takes place at Waterfront Park. There are seven evenings of concerts. Families bring a blanket, chair, picnic supper or patronize local vendors and enjoy the entertainment on our beautiful waterfront.
SUNDAY JULY 29TH
OPENER 6:00 – 7:00 pm.
Join us for a special pre-concert. Our High School Battle of the Bands winner will play a special concert
SLAINTE (SLAHN-CHUH): Irishspeak for cheers
7:30 – 9:00 PM
SPONSORED BY:

​
Sláinte is a group of friends and musicians, specializing in upbeat Irish folk music. Formed in a dorm room at Boston College, Sláinte has been entertaining crowds throughout New England and New York since 2012.
Sláinte offers a fresh take on traditional Irish music. With upbeat sets featuring a wide range of tunes from Irish classics to Dropkick Murphys covers, and everything in between, Sláinte always brings the craic!
MONDAY JULY 30TH
Opening Act 6:00 – 7:00 pm – Sierra & Andrew
OVERDRIVE HORNS
7:30 – 9:00 PM
Overdrive is an eight-piece band with a tight and incredibly funky rhythm section as the driving force behind a killer four-piece horn section that features two trumpets, woodwinds, and trombone. Dance music from the past three decades, music by Chicago, Tower of Power, the Average White Band, all the number one brass-rock hits, and a large selection of swing and songs from the Stax and Motown eras make up an exciting and exhausting performance.
TUESDAY JULY 31ST
OPENER 5:30pm – 7:00pm – Way to the River
Newburyport's very own local cover band covering all decades of rock music. Members include the talented Tim Guldemond, Dave Danis, Tim McCafferty and Coley Rybicki
ANNIE BROBST
7:30 – 9:00
SPONSORED BY:
JOHN HARTNETT
Annie Brobst is New England's' 2017 Female Performer of the Year (across all genres) and New England Country Music's Local Female Artist of the Year for the second year in a row.  She brings a unique mix of Miranda Lambert, Sugarland, Jason Isbell, as well as her own sound, to singing and songwriting; with splashes of rock, pop, and Americana
at times.

"Brobst has incredible voice control and she sings about things that matter."
-Christie Leist, BDCwire.com
"Annie Brobst owns the stage. Period. It's hers."
-Geoff Wilbur, Geoff Wilbur's Music Blog
She's had the pleasure of opening for over 30 national acts in her career thus far, including Jo Dee Messina, Wynonna Judd, Big & Rich, Darius Rucker, Lonestar, and many more.  She has also been added to the lineup for Taste of Country Music Festival at Hunter Mountain, NY and Country Jam Colorado for her tour this year! Her EP "Ghost" can be found on all online stores and her first full album "My First Rodeo" will be available after June 2018 on iTunes, Spotify, Google Play, and many more!
Annie truly provides the soundtrack to the best nights of her friends' and fans' lives!
WEDNESDAY AUGUST 1ST
OPENER 6:00pm – 7:00pm  – The Coal Boilers

B-STREET BOMBERS
7:30 – 9:00 PM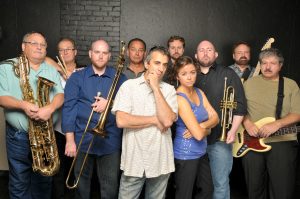 Celebrating 35 years performing live music, THE B STREET BOMBERS has been one of the most highly sought after show bands in the Boston area, bringing high energy, world class music to any venue! Formed in 1981, the band is enjoying an unprecedented successful run, and the band has received tremendous notoriety of an outstanding level of musicianship.
THURSDAY AUGUST 2ND
OPENER 6:00pm – 7:00pm  – River Valley Ramblers

BEATLEJUICE
7:30 – 9:00 PM
SPONSORED BY:
BEATLEJUICE doesn't mimic the Beatles, they honor them! W
idely recognized as the finest interpreters of Lennon & McCartney, Beatlejuice combines wonderful vocals, great musicianship and true respect for their heroes. Playing special tribute to the late Brad Delp will be friends Mike Girard and Joe Holaday (Newburyport's own) of "The Fools" along with Jim Rogers, Buddy Bernard, Steve Baker, John Muzzy and Bob Squires. This will be an evening of celebration, love and remembrance and the greatest rock 'n roll music ever written!
FRIDAY AUGUST 3RD
FORTUNE
7:30 – 9:00 PM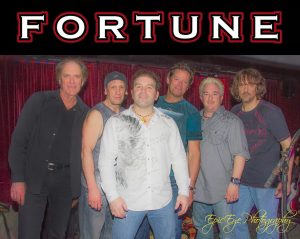 For well over two decades, Fortune has regularly packed venues throughout New England. Hailing from Peabody, MA, this 6-piece band has long maintained a reputation for smooth three and four part vocal harmonies, dynamic and melodic textures of multiple guitars and keyboards, and a tight rhythm section.
A Fortune show always features songs from 1993's FORTUNE and 1996's STORYLINE (both originally released in Japan), as well as new material ready for release, but the band is capable of calling out songs from artists such as Queen, Journey, Boston, Queensryche, Led Zeppelin, and many more!
Over the years, Fortune has been privileged to open for nationally successful bands such as Cheap Trick, Kansas, Dave Mason, Blood, Sweat, and Tears, Robin Trower, Bad Company, Blue Oyster Cult, The Guess Who, Ben Orr, America, and Jefferson Starship. More recently, Fortune was called to open for Kansas for the fourth time over the past decade.
Fortune is: Bob Vose, Lead vocals; Bill Plourde, Guitar; Pete DiStefano, Guitar; Steve Baker, Keyboards; Lou Spagnola, Bass; Dickie Paris; Drums
For more information, visit our Facebook page: facebook.com/groups/fortunefriends
SATURDAY AUGUST 4TH
OPENER 6:00pm – 7:00pm – David Corson

COMPAQ BIG BAND
7:30 – 9:00 PM
 Sponsored by:
The 19 piece Compaq Big Band returns with a high energy, exciting program of big band jazz and swing.  Formed in 1975, the band's repert
oire spans large format jazz from the Golden Age of swing in the 1930's-1940's updated to roarin' arrangements of all the modern big bands.  The August 4th concert will feature instrumental chart selections from Buddy Rich, Maynard Ferguson, Gordon Goodwin's Big Phat Band, Chris Walden, and more.
Joining the band for the evening will be the phenomenal Marina Evans as Guest Vocalist.  Hailing from Cape Ann, Marina's an accomplished folk and blues artist in both the New England and Florence, Italy areas, and she'll supercharge the crowd on August 4th when she channels Ella Fitzgerald, Diane Schuur, Tierney Sutton, and other jazz vocal greats!
Among the band's many accomplishments is producing and opening for multiple shows of Gordon Goodwin's Big Phat, a 10-day/7-gig tour of the United Kingdom, and their June 2018 sold out performance at Ryles Jazz Club with world renown jazz trumpet virtuoso Wayne Bergeron.