Door Decorating Contest
Thank you to everyone that participated in our door decorating contest.  The creativity was amazing, I can't wait to see what next year inspires!  Below are this years winners.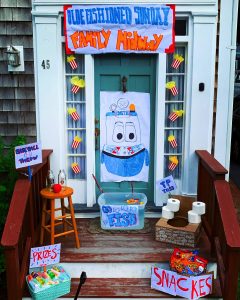 First prize goes to Emily Kuloweic  of Newburyport MA
"We decided to join in on Newburyport Yankee Homecoming door decorating contest to celebrate Yankee Homecoming 2020 with our favorite event…Olde Fashion Sunday.
We have their games out here, TP Toss, Baseball Throw, Fishing, popcorn, our favorite little Coast Guard Boat, Coastie, and snacks and prizes!
The games are just for decoration, but the snacks and prizes are REAL! Come take a walk by, check it out and grab a prize and snack.
And most importantly… in the spirit of Yankee Homecoming giving back, as they've been doing throughout the pandemic we are collecting pantry donations for local groups."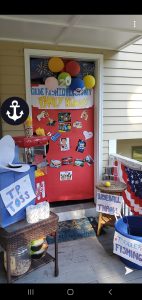 Second prize goes to Brian Kassie, Giovanni & Priscilla Hurley Newburyport MA
"For the door decorating contest we decided to celebrate one of our favorite events of Yankee Homecoming OLDE FASHIONED SUNDAY! Complete with our favorite midway games and pictures of our favorite happenings! The Elvis impersonator, fireworks, choo choo train, pony rides, antique car show and of course our favorite Yankee Homecoming celebrity COASTIE! We definitely miss all of the events this year! Hoping for next year!!"
Third prize goes to Roxanne & George Konefal and Family, Middlefield CT
"Although we live in Connecticut, Newburyport is our second home in the summer, and Yankee Homecoming has been a tradition for my family and holds a very special place in our hearts.  We vacation in Newburyport every summer and are truly missing being there this year due to the pandemic.
We decided to decorate the inside of our door so we could look at it and enjoy it every day and feel the Yankee Homecoming spirit.  Our door entry incorporates all the things we love about Yankee Homecoming and Newburyport in general including the boats, the water, the Coast Guard (Semper Paratus sheet music attached to the door), the beach and Plum Island area, the arts and street vendors, the music and shopping, Olde Fashioned Sunday (prizes my kids have collected from OFS through the years and now they are teens and volunteer at OFS), OFS dog show, kids' talent show, and so much more.
We miss you Newburyport and cannot wait until we can see you again in safer and better times!"