KIDS TALENT SHOW
Thank you to everyone that attended our 2019 Yankee Homecoming Festival.  We hope you enjoyed our many events.  Please check back early next year to see our updates for next years event.  In the mean time below is information on this past fest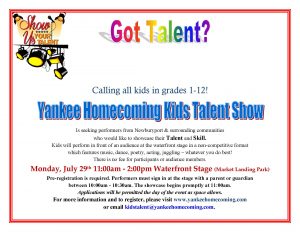 ival.
Showcasing the talent of children from Newburyport and the surrounding communiti
es presented in a non-competitive show which features music, dance, poetry, juggling and much more.  The kids perform in front of an audience at the waterfront stage.  This event is open to children in grades 1-12 and there is no fee for participants or audience members!
When: Monday July 29th 11:00am – 2:00pm
Where: Waterfront Stage (Market Landing Park)
What: Open to school aged children in the Newburyport and surrounding area. Ages 6-18 singing, dancing, poetry, acting, juggling, musical acts, etc.
Pre-registration is required. Performers must sign in at the stage with a parent or guardian between 10:00am – 10:30am.
The showcase begins promptly at 11:00am.
Please complete the registration form and send in by Friday July 26th. Day of applications will be permitted as space allows.
*To ensure each child has a full audience prizes will now be handed out at the end of the showcase.