KAYAK & SUP RIVER RACES
2nd Annual                                                                                Sponsored by:

Yankee Homecoming
Kayak & Paddle Board River Race
July 29, 2017
Registration time:  8:00 AM   
Race Time: 10:00 AM


Thank you to our sponsor Dunkin Donuts as well as all our participants that showed up on this windy morning! We are pleased to announce our Kayak Raffle Winners
Anne Popoli won the paddleboard donated by Newbury Kayak and Canoe
Mike Volpone won the paddleboard donated by Coastal Inflatable Boats
Below is a listing of our top winners in each category.  See our full listing of times HERE
Elite
1st place Christopher McCarthy 41 minutes 39 seconds
2nd place Rick Battistini 44 minute 49 seconds
3rd place John Mitchell 52 minutes 18 seconds
Recreational Male
1st place Samuel Duffield 43 minutes 58 seconds
2nd place Heath King 45 minutes 01 seconds
3rd place Brett Snowden 46 minutes 22 seconds
Recreational Female
1st place Alexis Bogart 52 minutes 19 seconds
2nd place Lisa Crago 57 minutes 02 seconds
3rd place Lisa Jewett 57 minutes 18 seconds
Over 65 Male
1st place Kenneth Soucy 40 minutes 08 seconds
2nd place Daniel Battle 43 minutes 42 seconds
3rd place Rudy King 49 minutes 37 seconds
Over 65 Female
Gail Fensom 55 minutes 30 seconds
SUP Male
1st place Terence O'Malley 30 minutes 08 seconds
2nd place Rhodes Berube 31 minutes 43 seconds
3rd place Scott Tyrrell 34 minutes 44 seconds
SUP Female
1st place Tracee Van Brunt 39 minutes 21 seconds
2nd place Nichole Urbanski 43 minutes 07 seconds
3rd place Mikki Wilson 43 minutes 36 seconds
Below is information on our 2017 race. We look forward to seeing all of you for our 3rd Annual Kayak and SUP race in 2018!

Join us for the second Annual Kayak and SUP River Race.   Participants will launch at Cashman Park boat ramp off Merrimac Street. The participants will paddle up river past Ram Island, Carr Island, and around Deer Island then back to Cashman Park and the finish line total of 4.6 miles Whats New this year:
Male and Female Categories
Raffle – Paddleboard donated by Coastal Inflatables and Paddleboard plus one donated by Newbury Kayak and Canoe.  Each winner will receive one paddleboard- $650 value
Custom Designed Event T-Shirt for all participants donated by Paddle.Paddle Surf Apparel
Hat for 1st place winners donated by Paddle.Paddle Surf Apparel
1st, 2nd and 3rd place winners get an Official Yankee Homecoming Kayak & SUP River Race 2017 medal
Race Rules:
All craft must be solely propelled by paddles
All craft must have forward & aft buoyancy to maintain a neutral level if capsized
All paddlers must be able to swim
All participants must wear a USCG approved personal flotation device (PFD) with whistle at all times
Use of alcohol at this event is prohibited
Yankee Homecoming reserves the right, at any time, to:  Refuse to register any individual or boat; expel or disqualify any individual or boat for lack of required equipment, unsafe operation, and disregard for event rules or unsportsmanlike behavior.
All participants must fill out a registration form below to be eligible and submit online or print and bring with you the day of the event.
For more details, Contact Larry Wielgos at 978-462-6806 or
Need to rent a Kayak or Paddleboard contact Newbury Kayak and Canoe 978-465-0312  or Plum Island Kayak 978-462-5510
--------------------------------------------------------------------------------------------------------------------------------------------------------
Pre-registration and Entry Fee:  12 years to 18 years $15.00 / 18 years and over $25.00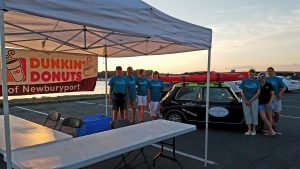 Pre-registration can be paid with Paypal after submitting the form below, or with check.
Mail Checks to:
Yankee Homecoming
PO Box 493
Newburyport MA 01950
Checks must be mailed by 7/25.  Online registration closes on 7/28 at 5:00pm
Day of Race registration fee $30.00 per adult, $20.00 per under 18

****** Consideration of this entry being accepted for myself, my heirs, executor, administrators, waive and release any and all rights and claims for personal damage against Said Sponsor and all parties of Said Race.  Parents or legal Guardian must sign for any participant under 18 years of age.  Parents or legal Guardian must accompany any participant under 12 years of age  ******
Please complete the attached registration form:
Race Rules