PADDLE THE PORT


Check back soon for registration information and updates!
Join us for our Paddle the Port including Kayak, SUP River Race.   Participants will launch at Cashman Park boat ramp off Merrimac Street. The participants will paddle up river past Ram Island, Carr Island, and around Deer Island then back to Cashman Park and the finish line total of 4.6 miles
Race Rules:
All craft must be solely propelled by paddles
All craft must have forward & aft buoyancy to maintain a neutral level if capsized
All paddlers must be able to swim
All participants must wear a USCG approved personal flotation device (PFD) with whistle at all times
Use of alcohol at this event is prohibited
Yankee Homecoming reserves the right, at any time, to:  Refuse to register any individual or boat; expel or disqualify any individual or boat for lack of required equipment, unsafe operation, and disregard for event rules or unsportsmanlike behavior.
For more details, Contact at
Need to rent a Kayak or Paddleboard contact Newbury Kayak and Canoe 978-465-0312  or Plum Island Kayak 978-462-5510
--------------------------------------------------------------------------------------------------------------------------------------------------------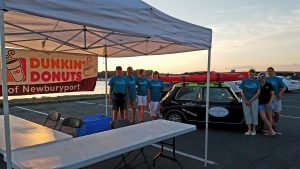 ****** Consideration of this entry being accepted for myself, my heirs, executor, administrators, waive and release any and all rights and claims for personal damage against Said Sponsor and all parties of Said Race.  Parents or legal Guardian must sign for any participant under 18 years of age.  Parents or legal Guardian must accompany any participant under 12 years of age  ******
Race Rules