HIGH SCHOOL BATTLE OF THE BANDS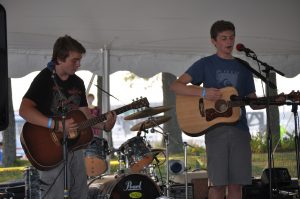 Yankee Homecoming 2015 5th Annual
Battle of the Bands

We have moved to the waterfront stage and are now a free event!



SPONSORED BY: Timothy Guldemond/Melissa B Root, North Shore Pediatrics, Pavlo Orthodontics
With the possibility of 9 High School bands competing, the venue has been moved from the Waterfront Parking lot to the Waterfront Stage. This year the event will be FREE TO THE GENERAL PUBLIC thanks to our sponsors this year.
Friday, July 24th 5:00 – 9:30 pm.
Come Cheer them on!
3 judges will determine 1st and 2nd place.
Thank you to our Judges:
Zach Field Drum Studios, West Newbury School of Music & Duncan Schumacher Music Studios.
Thank you to On The Fringe Studios, West Newbury
Thank you to Way to The River for supplying the sound system, and helping with this event

Let the battle begin on Facebook