HERITAGE TOURS
Discover history: <clipperheritagetrail.com> Free downloadable tours, brochures, maps and free mobile apps. An American Association of State and Local History Merit Award Winner in 2014.
 SEE OUR 2016 TOUR INFORMATION BELOW.  OUR 2017 TOURS WILL BE UPDATED SHORTLY

Events are all free unless otherwise indicated.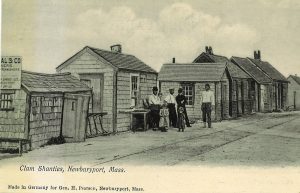 Saturday, July 30, 9 am to 2 pm * Craft Fair and Noon to 2 pm *Chowder, Chowder, Chowder.  People's Methodist Church, Purchase Street. Visit the craft fair, see Ghlee Woodworth's slide show and then enjoy a delicious bowl of fish chowder and assorted sandwiches in Joppa's 1840s church once home to the Angel Gabriel weathervane and now located in the Smithsonian.
Saturday, July 30 through Saturday, August, 6t, 10 AM – 4 PM. *Merrimack Valley Ship Model Club Exhibition. Unitarian Universalist Church, Lower Level, 28 Pleasant Street. The Merrimack Valley Ship Model Club will exhibit a wide range and variety of ship models displaying tiny miniatures, and modest rowing craft in contrast with ocean going vessels. MVSMC members will be at the exhibit demonstrating modeling techniques and sharing background stories about the models on display.
Saturday, July 30, 11 to noon. *Old Newburyport and Joppa. People's Methodist Church, Purchase Street. Join Ghlee Woodworth and enjoy a visual tour of old Newburyport and the Joppa neighborhood.
Saturday, July 30, 1:00 – 3:00 pm *Newburyport Powder House Park and Learning Center, 57 Low Street (across from Nock/Molin Schools). Come and visit the newly restored Powder House built in 1822 on Godfrey's Hill. View the exterior and interior restoration and original cobblestone wagon path. The Powder House is an American Association of State and Local History merit award winner.
Saturday, July 30 – Saturday, August, 6. *"If This House Could Talk" south end stroll.  South end residents will be displaying posters with stories about their homes. Stroll the neighborhood bordered by State, Water, Lime, and High Streets and look for house stories prominently displayed.  Sunday, July 31, Tuesday, August 2, Thursday, August 4, Noon. Orientation. Meet Museum of Old Newbury, corner of Fruit and High Streets for orientation and self-guided map or go to map.walknewburyport.com or www.facebook.com/WalkNewburyport.
Saturday, July 30 and Sunday, July 31, 12pm-4pm; August, 3, Wednesday – August, 5, Friday 10am-4pm; Saturday, August, 6 from 12pm-4pm. *Museum of Old Newbury. For the past 140 years, the Museum of Old Newbury has been collecting, preserving, and presenting the history of Newburyport, Newbury, West Newbury, Byfield, and Plum Island. With objects and documents, we tell the stories of local people from the past four centuries. Free tours. 98 High St.; email:
; phone: 978-462-2681.
Sunday, July 31, 8:45 am. St. Paul's Church. 166 High St. *Historic Morning Prayer Service. St. Paul's will be celebrating Morning Prayer from the Book of Common Prayer in use when St. Anna's Chapel was consecrated in 1863. This is an opportunity to experience the service used during the Civil War in this beautiful, newly restored chapel during Old Fashioned Sunday. Participants are invited to wear something Victorian – an old fashioned hat, dress, scarf, vest, or tie. Please join us for this special service.
Sunday, July 31, 10:00 am – Noon *Superior Courthouse Open House, Bartlet Mall
Visit the 1805 courthouse, designed by Charles Bullfinch, and learn about its history and beautiful interior and exterior architecture including the courtroom where President John Quincy Adams and Daniel Webster tried cases. Presented by Essex County Clerk of Courts Tom Driscoll and the Greater Newburyport Bar Association.
Sunday, July 31, 10:00 to 11:30 am. *Coins, Coins, Coins. Ellen T. Brown Chapel, Oak Hill Cemetery. Brown and State Streets. Visitors are encouraged to bring old coins for evaluation. Speak with one of the area's most knowledgeable rare coin specialists, Rick Bagg who will answer your questions about coin collecting, buying and selling coins and assembling and appraising collections.
Sunday July 31, Noon to 1 pm. *Researching Your Historic Home. Ellen T. Brown Chapel, Oak Hill Cemetery. Brown and State Streets. Facilitators: Linda Tulley, researcher of the city's historic homes and librarian Sharon Spieldenner, veteran researcher. What do you know about the historic home you live in? It has a tale to tell. Learn how to research the history of your home–learn its past. Researching your house's history is like solving a mystery – collecting clues, retracing steps, and possibly unearthing a trove of fascinating stories.
Sunday, July 31, 12 – 1:00 pm *Old South Church Tour, 29 Federal Street, 978 465 9666; www.oldsouthnbpt.org; Meet at the front doors. Step right in to living history and experience Old South Church the way church used to be in the 1700's! From the crypt of Rev. George Whitefield to the Whispering Galleries and the slave pews, your tour of Old South Church on Federal Street will be steeped in history.
Sunday, July 31, 2 to 3 pm. *Plum Island: 4,000 years on a Barrier Beach. On March 10, 2013, 31 houses were washed away or declared to be in imminent danger from erosion on Plum Island Beach in northern Massachusetts. But it was only the latest skirmish in an ongoing battle between man and nature on this fragile barrier beach. In a film program join Bill Sargent, author of 20 books on science and the environment. Plum Island Turnpike, Parker River National Wildlife Refuge headquarters. (978) 465-5753 Hosted by the Friends of Parker River National Wildlife Refuge. Arrive early, limited space.
Sunday, July 31, 4:00 – 5:30 pm *Tiptoe Through the Tombstones, Oak Hill Cemetery, State and Brown Streets, Brown Chapel. Join Ghlee Woodworth and take a walk through beautiful Oak Hill Cemetery and visit some of the gravesites featured in Ghlee's award winning book, Tiptoe Through the Tombstones, Oak Hill Cemetery. Also hear about the successful gravestone restoration project and visit Brown Chapel, now open for events.
Monday, August 1st, 6:30-7:30 pm *Urban Renewal: Demolition or Restoration. Newburyport's Story. Public Library Program
Room. Like many communities in the early 1960s, Newburyport was at an economic crossroads. Factories closed, storefronts were boarded up, and the new wave of shopping malls swept through the country. Urban renewal threatened to demolish our historic downtown and replace it with a modern shopping center. Ghlee Woodworth will take you through a visual journey to learn how the community and its citizens came together to save the charm and character of the historic downtown.
Tuesday, August 2 – Saturday, August 6, 9:00 am – 4:00 pm. *PIEL CRAFTSMEN: 3 1/2 Center Street. Established over 68 years ago. Piel Craftsmen have produced over 35,000 hand crafted wooden ship models and restored thousands of ship model wrecks to their original condition. Come in and see models being made and restored and nautical gifts of the time honored sailors art of Ships in Bottles, Scrimshaw, Nautical prints, books, and many other nautical gifts.
Tuesday, August 2, 11 am – 12:30 pm and Saturday, August 6, 1:00 to 2:30 pm. *Clipper Heritage Trail's "Along the Water's Edge" Waterfront Harbor Tour.  Tickets go fast! Reservations can be made online at www.harbortours.com. Join local historian Ghlee Woodworth and marine ecologist Captain Paul Aziz aboard the Yankee Clipper and enjoy a 90 minute cruise along the beautiful Merrimack River. Step back in time and hear about shipyards, Caldwell's Rum, and a castle as we cruise upriver to Amesbury. On the return leg, the Yankee Clipper takes us along the shores of Joppa, home of clammers, fishermen, and hunters, as we discover the timeless significance of our local estuary.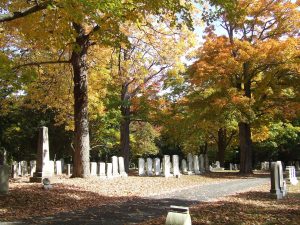 Wednesday, August 3, 10 am to noon. *The Cemetery Crawl, meet on Hill Street at Highland Cemetery, look for the sign at the road entrance. Join Ghlee Woodworth as we wander through Highland Cemetery and Old Hill Burying Ground learning about some of our citizens of the past. The tour concludes at St. Paul's Graveyard with Bronson de Stadler.
Wednesday, August 3, 6:30 to 7:30 pm, Public Library Program Room. *In the film The Girls of Joppa, Jean Doyle, Virginia Lowell, and Patricia Sayward share their experiences of life in Newburyport's Joppa neighborhood. Sayward has spent the entirety of her nearly 90 years of life in Joppa, while Doyle and Lowell spent their younger years during the 1920s and '30s here. The experiences of Doyle, Lowell, and Sayward highlight the hospitality, generosity, and kindness of a tight community. Sponsored by the Museum of Old Newbury.
Saturday, August 6, 10 to 11:30 am. *A Maritime Walk along Water Street. Join Skip Motes in an illustrated walk covering 300 years of Maritime history starting at the Firehouse Center for the Arts near the site of the Great Rock and the first wharf built in 1655. The walk ends near Federal Street where ship building started in the late 1600s and in 1900 was dense with coal pockets.