FAMILY DAY AT MAUDSLAY STATE PARK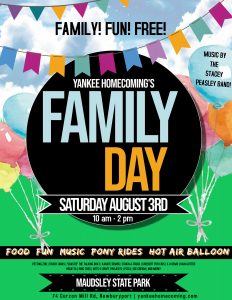 Thank you to everyone that attended our 2019 Yankee Homecoming Festival.  We hope you enjoyed our many events.  Please check back early next year to see our updates for next years event.  In the mean time below is information on this past festival.
Join us at Maudslay State Park as we start off our Super Saturday with good family fun!  Many local businesses, organizations and non-profits take part in our Family Day fun offering free crafts, games, activities and handouts.  Sit down for some lunch and listen to the band playing on the main stage or watch one of the performances taking part throughout the park.
A voluntary toll booth is positioned at the entrance of Family Day. This is completely voluntary but does go a long way to keeping this event free.  While at the toll booth don't forget to get your free give-a-ways provided by Anna Jaques Hospital
We are still accepting applications for Family Day at Maudsley.  Please remember the booth is free as long as you provide a free craft, game, activity or handout for the kids.  To apply please see the application HERE
Below are just some of the participating businesses/organizations that will have fun activities for the kids!
Confirmed for Family Day 2019
RE/MAX on the River – Hot air balloon                                 Mass Audubon-Joppa Flats – touch tanks
www.realestateontheriver.com                                               www.massaudubon.org
Todd Farm Grill – Food                                                            Relief Parenting – kids yoga
www.toddsfarm.com                                                                 www.reliefparenting.com
Domino's – Pizza                                                                       Topsfield Fair – games, planting, crafts 
www.dominos.com                                                                    www.topsfieldfair.org
CrossFit Amesbury – Kids crossfit course                              The Dojo – karate demo 
www.crossfitamesbury.com                                                       www.thedojosalisbury.com
5 Dragons Martial Arts Academy – Demo                               Dynamic Balance – coloring 
www.5dragonskarate.com                                                          www.dynamicbalancema.com
Alphonse Overhead Door – ring toss                                      Greater Newburyport Families Club – spin art 
www.alphonseoverheaddoor.com                                            www.greaternewburyportfamilies.org
Greater Newburyport Ovarian Cancer – nail painting          The Friendship Connection – sensory activity
www.ocawareness.org                                                                 www.friendshipconnectiononline.com
Newburyport Cub Scout Pack 21 – water rockets                  Auxiliary Coast Guard – Coastie, proper life vest fitment
www.portcubs.org
US Coast Guard – Merrimack Station                                     
Truck/Boat will be available for kids to see